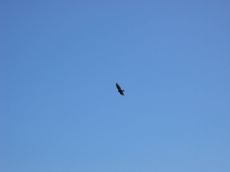 A hawk, flying over the Mississippi at Winona.




A male mallard duck, swimming in the Mississippi not more than 15 feet from me.




The interstate bridge (between Minnesota and Wisconsin) over the Mississippi.




The river was really high. The area to the immediate left of the scalloped wall, about six feet of it, is usually not under water.




The land across the river from me is still part of Minnesota--it's called Latsch Island. We used to "hang out" there in high school and college. Wisconsin is in the background, the bluish-green hills.




My cutie car, and "the boat that don't float".




Closeup of The Wilkie.




For Johnnie.




How one knows when one's behaved badly in a bar...




Yup, really badly.




The location of a surprise party for my 24th birthday. I hate surprises.




My ill-fated first wedding took place here. Gorgeous church. Nice guy. Good party. The marriage...well, better luck next time.




The view from my parents' deck (facing north).




Looking East down Third Street in Winona, after lunch on Saturday. Bucolic, isn't it?




West on Third, around 2:30 Saturday afternoon.




One of my favorite buildings in Winona. Lots of character, and it's still a bank.




When I was in junior high, we had phy. ed. in this park (in weather that was amenable). There was no statuary at that time. We'd run over from the school, which was 2 blocks away.




My friend Jennifer married her sweetie, Al, here.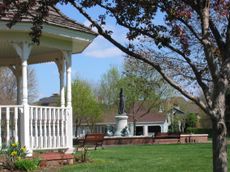 Princess Wenonah, I think?




The short view from Mom & Dad's front step (facing south).




Taller view from the front step.




The tops of the trees.




Mom was pissed--something ate her tulips. She accuses the deer.




This one survived. Prehaps because it's dirty??




These two also lived to tell the tale....




Nothing says "Winona" like this chunk o' limestone, a.k.a. Sugarloaf.




There's no place like home.

sigh.